Cinnamon Bun Bread Pudding
Boomette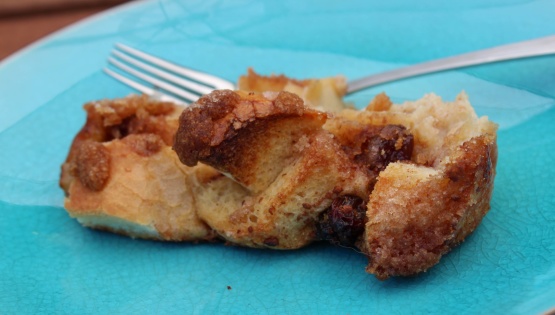 A recipe from The Recipe Girl Cookbook. I made half the recipe in a loaf pan and it turned out so good. And I added the optional raisins.

Can't go wrong here. Made this straight down the line, except using 2 percent milk. Made a great dessert tonight. Baking time was close, and very flavorful. I did omit the raisins. Made for PRMR Tag
Preheat the oven to 325°F Spray an 8-inch square pan with nonstick spray.
To prepare the pudding, place the bread cubes in the prepared pan. In a medium bowl, whisk together the milk, eggs, sugars, vanilla and cinnamon. Pour over the bread cubes in the pan.
To prepare the topping, in a medium bowl, combine the topping ingredients. Crumble the topping over the top of the pudding.
Bake for 45 to 55 minutes, or until the custard is set, a knife inserted into the center of the pudding should come out fairly clean and the top is beginning to brown. Let the pudding cool for 15 minutes. Slice and serve warm.
Change it up : Classic cinnamon buns often contain nuts and/or raisins. Sprinkle nuts or raisins into the bread pudding if you'd like.