Prep 2 hrs 9 mins
Cook 40 mins
Recipe source: Coyote Cafe
Directions
Grease two loaf pans (4 1/2 x 8 1/2).
Sprinkle yeast over the warm water and let sit for 10 minutes or until bubbling and set aside.
In a large mixing bowl combine dry milk, sugar, buckwheat and 5 1/4 cups flour, cinnamon and salt.
Stir in yeast mixture and then beat until dough is silky, adding more flour if necessary (by hand 8-10 minutes).
Grease a large bowl with corn oil.
Place dough in greased bowl, turning to cover all sides and then cover with plastic wrap and let dough rise in a warm place (30 minutes) or until doubled.
Punch dough down and let rise again for 30 minutes.
Divide dough in half and form into logs.
Place dough in prepared pans, brushing with beaten egg whites.
Let dough rise again (30 minutes).
Make two diagonal cuts in top of each loaf and then sprinkle loaves with 2 tablespoons of flour.
Bake in preheated 400-degree oven for 30-40 minutes or until crust is golden brown.
Turn loafs onto cooling rack to cool.
Most Helpful
Both recipes sound good. Using buckwheat would make this recipe gluten-free.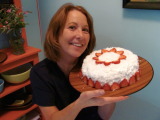 A very lovely recipe. It worked fine using whole wheat flour in place of buckwheat and Splenda in place of sugar. I added a small handful of walnut bits because they were on the counter...well, why not? the amount of cinnamon is perfect but next time I will trim back on the sugar, it's very sweet bread. The texture is good and consistent throughout with no holes. I'm already looking forward to a toasted slice with peanut butter for tomorrows breakfast. Note: As of the following morning I'm changing this rating to 5 stars. It is an easy to make bread that once well cool slices beautifully and as thin as you would like. It toasted and held up under spreading natural peanut butter, it made French Toast for dh's brekkie and I think it would make a tasty ham sandwich with less sugar in it. Thank you ellie fir a very versatile keeper.