Cinnamon Brownie Cupcakes
Deantini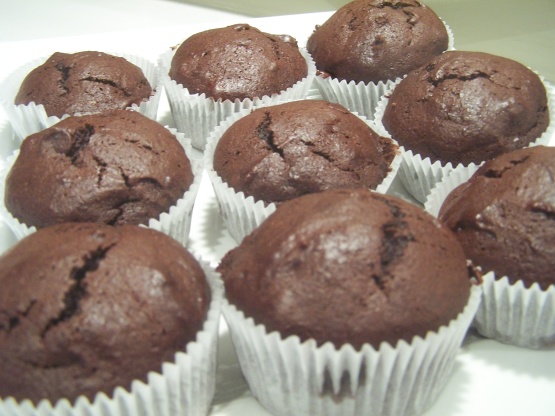 Warm cinnamon enhances the chocolate flavor in this lightened version of a brownie – a perfect lunchbox surprise. From McCormick. Nov 26/09 - changed the cinnamon from 4 tsp to 2tsp per Deantini's suggestion - if you're a real cinnamon lover, you may wish to add more than 2 tsp.

These are absolutely wonderful! The first time I made these I left out the cinnamon and iced them with mocha icing (they really don't need icing though!). They are pretty dense, but I loved it because it was like a good brownie. They are great with the cinnamon too.
Preheat oven to 350°F Mix flour, cocoa powder, cinnamon, baking powder and salt in medium bowl. Set aside.
Mix sugar, applesauce, eggs and vanilla in large bowl until well blended. Gradually stir in flour mixture until well mixed. Stir in chocolate chips. Spoon 1/4 cup batter into each of 15 paper-lined muffin cups.
Bake 15 minutes or until toothpick inserted in center comes out with fudgy crumbs. Cool in pans on wire rack 10 minutes. Remove from pans; cool completely on wire rack.