Cinnamon Bread Morning Casserole
jb41848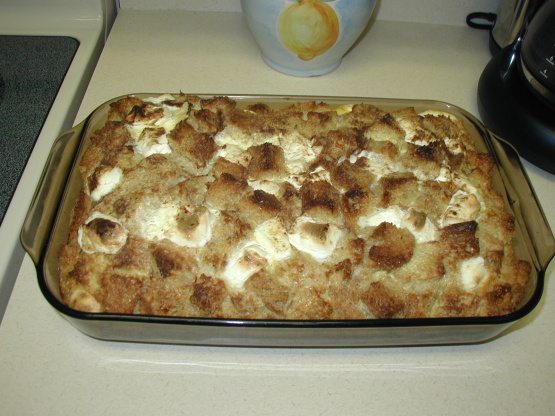 I had this some time ago and hadn't had it in years. I came across it in my cookbook and thought I would post it here. My SIL's aunt made this for her baby shower and it was absolutely delicious. I hope you enjoy it as well. Bev's Cinnamon Sunrise Bread is the one that I used this last time and it came out amazing.

Oh delish! I made this for Christmas Day breakfast and it was well received. Since there were only 4 of us eating, I put half the mixture into freezer/oven proof dish to enjoy again later. Using low-fat cream cheese and skim milk, it was still so tempting to keep nibbling. Very souffle-like and enjoyable! Next time, I'll add some raisins to at least half. Thanks jb4!
Preheat oven to 375 degrees.
Cube the bread and mix that with the cubed cream cheese.
Layer half of this into a 13x9 inch baking dish or 2 quart casserole dish.
Mix together the milk and syrup with the eggs and pour half of this mixture over the bread and cheese.
Add remaining bread and cheese and pour remaining egg mixture over the top.
Dust with cinnamon.
Bake for 45 minutes.
Serve with extra syrup.