karen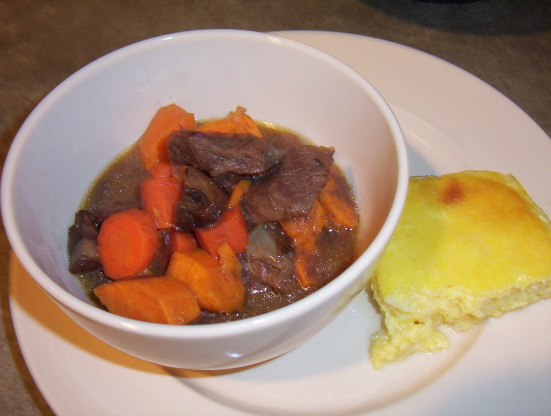 Long, slow cooking brings out the layered flavors of North African spices, such as cinnamon, bay leaf, cumin, ginger and red pepper, in this Moroccan stew.

Top Review by karen
Both my guest and I thought that this was a lot like stew, and though it was fine, it also didn't strike either of us as anything special. I expected the cinnamon & cumin flavor to be much stronger, and was a bit disappointed that the flavors weren't more pronounced. I followed the recipe pretty closely, using 1 lb of stew meat, homemade veggie broth and 4 cups of veggies (carrots, sweet potatoes & mushrooms), but left all of the spices as listed. I did leave out the raisins because I just don't like them. This was definitely an easy meal, and would probably be a big hit with those that like beef stew. I'd suggest serving it over rice or noodles.
Coat beef cubes with flour.
Heat 1 tablespoon oil in large saucepan or Dutch oven.
Add half of the beef; cook 10 minutes or until brown.
Remove from pan.
Repeat with remaining beef and oil.
Return all beef to pan.
Stir in broth, onion and all spices.
Bring to boil.
Reduce heat to low; cover and simmer 90 minutes, you may add more liquid as/if needed.
Add vegetables.
Cover and simmer 15 minutes or until vegetables are tender.
Stir in raisins.
Serve with couscous, if desired.