Cinnamon Basmati Rice With Raisins
Annacia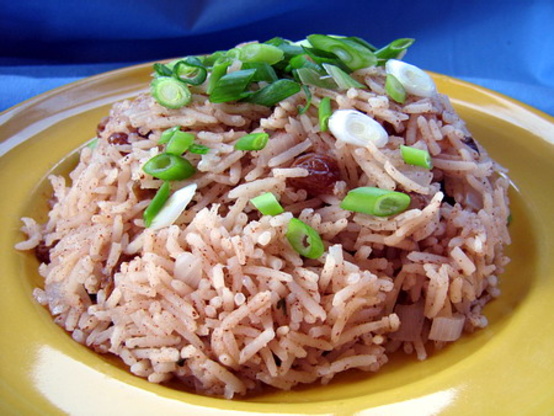 Tastes good and smells wonderful! Modified from a 1998 Martha Stewart magazine.

This is a good starting point for a good middle eastern side dish. I'm sorry to say that I found it weak as written. I gave this a quick taste test before the water had absorbed and quickly added a healthy big spoonful of chicken stock powder and a 1/4 tsp of cumin. After it was photographed basically as written (the chicken stock and cumin don't show) I added another full 2 tsps of cinnamon and a handful of pine nuts. With that it was tasting pretty darn good. I'll be the first to admit that others might not care for the amount of cinnamon I used but I feel it was needed to get the best out of this dish.
Melt butter in medium saucepan. Saute onion, cloves, and cinammon until the onion is translucent.
Rinse the uncooked rice in a sieve with cold running water. Add rice to pan, sirring to coat.
Add raisins, salt, and pepper. Add 2 cups water. Increase the heat and bring to a boil. Reduce heat and cover. Cook 10-15 minutes until water has been absorbed & rice is cooked.
Remove from heat and let stand, covered, for 5 more minutes. Season with additional salt and pepper if desired.