flower7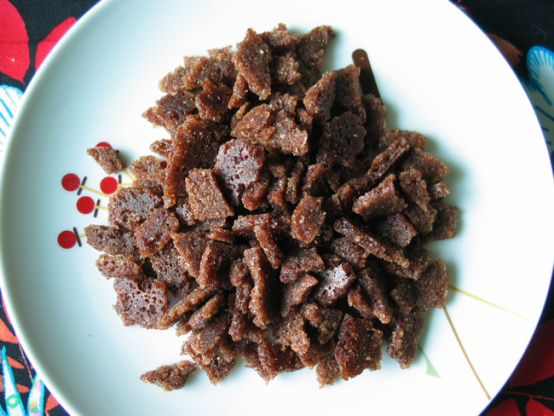 Homemade cinnamon baking chips for use in scones, etc. Produces a non-waxy chip (not like chocolate chips). A customized recipe built from others found on the web and in old cookbooks.

They don't look like much but they sure are tasty! I used some super potent Vietnamese cinnamon which recommended using 2/3 what you usually would, so I cut the cinnamon to 1 Tbsp, which was perfect. After 30 min. nothing much seemed to be happening so I left it in for another 15-30 min. (I don't remember which) and then upped the heat to 250F for another 30 min. By that time it was finally starting to bubble a little. I expected the sugar to melt together more but it did harden up and stay together when cooled (I was afraid it might crumble apart but it did not). I'm looking forward to using these in cookies or muffins! Thanks for sharing!
Preheat oven to 200 degrees Farhenheit.
Mix all ingredients with fork until well-blended.
Spread mix on foil-lined baking sheet.
Bake 30-35 minutes, until hot and bubbly.
Allow to cool completely, then crumble.