Cinnamon Applesauce (Easy Microwave Recipe)
SamHart7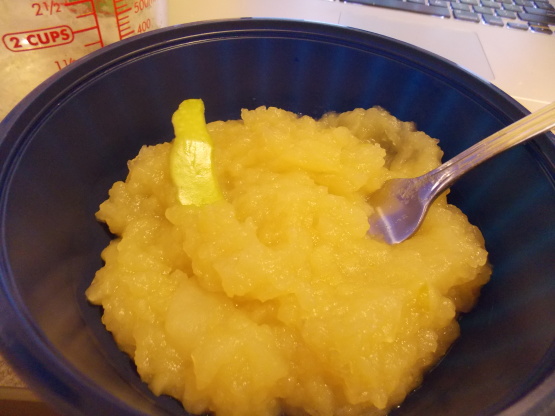 This is really easy and delicious applesauce. I left out the sugar completely and thought it was sweet enough. The recipe says that if you prefer a sweeter applesauce, choose red apples, such as Fuji or Gala, instead of adding more sugar. This recipe comes from the Everyday Food Magazine.
In a 2 quart microwave- safe dish with a lid, combine apples, sugar, lemon juice, cinnamon, and a pinch of salt.
Cover, and microwave on high until very tender, 10- 15 minutes, stirring halfway through. Mash apples with the back of a spoon.
Serve warm; or cover, refrigerate at least 1 hour, and serve chilled. Store, covered, in the refrigerator for up to 1 week.