MsSally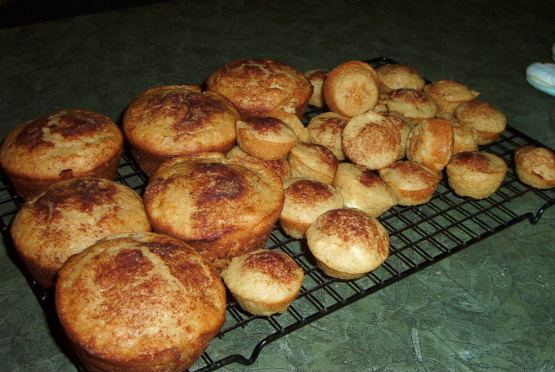 From Cooking Light. Sounds wonderful - love the idea of these muffins with ricotta!! Mmm! Will try soon!

These were great. Very easy. I used gala apples so I reduced the sugar to 1/2 cup. Also used 1/2 cup egg substitute. I will be making these again. I made 6 texas muffins and 24 mini muffins. The taxas muffins cooked in 18 mins and the mini's in 10.
Preheat oven to 400°F.
Combine first 6 ingredients in a large bowl. Stir in apple, and make a well in center of mixture.
Combine buttermilk and next 6 ingredients (buttermilk through egg); stir well with a whisk. Add to flour mixture, stirring just until moist.
Spoon batter into 18 muffin cups coated with cooking spray.
Combine 3 tablespoons sugar and 2 teaspoons cinnamon; sprinkle evenly over batter.
Bake at 400°F for 18 minutes or until done. Remove from pans immediately; cool on a wire rack.