Kathy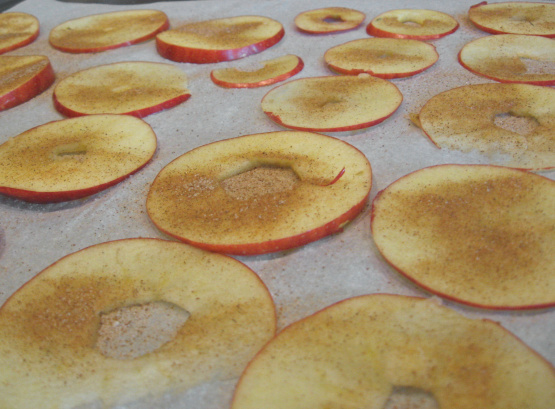 This simple recipe came from WeightWatchers.com and is 1 point per serving. It is Core except for the sugar, which is 0 points in the quantity given.

Top Review by Kathy
Better than 5 stars! Very simple to make, and oh so good. Be sure to get the slices as thin as possible, otherwise you will need more than 2 hours in the oven to get them crispy. A few of my thicker slices went back into the oven for another 40 minutes. I used a knife to slice the apples, but a mandoline would have been perfect for this task (on my wish list). I wasn't sure if the center of the apple should be cored or not. For the first apple, I cut out the center of each slice. When I sliced the second apple, I just removed the seeds and that was fine.
Preheat oven to 200 degrees F.
Line 2 baking sheets with parchment paper (not wax paper). Place apple slices in a single layer on paper; sprinkle with sugar and cinnamon.
Bake until lightly browned, about 2 hours. Cool on wire rack and serve.