Lalaloula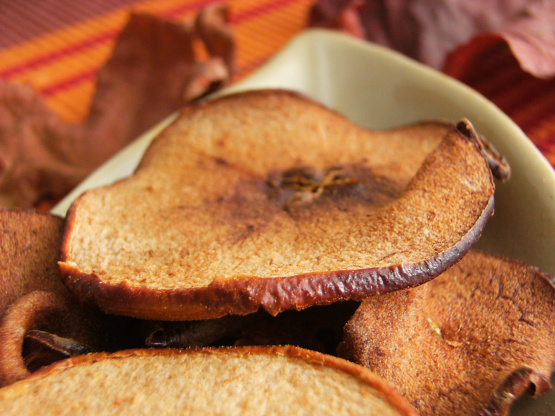 From Rachael Ray Magazine. It is apple season and what a way to save those last few apples for snacks, granola, or anything else you want to use these for. I plan to make a trail mix with them but for storage this will be great. Serving size is cookie tray, hard to figure this out.

Wow, the kids waited anxiously next to the oven the whole time these cooked and gobbled them up as soon as they were done. Next time I may have to triple this recipe so I can get more then one! ;) What a delicious way to use up all these fall apples.
1. Preheat the oven to 250°. In a small bowl, combine the sugar and cinnamon. Using a serrated knife or mandoline, thinly slice the apples crosswise, discarding the seeds and both ends. Arrange in a single layer on parchment-paper-lined baking sheets; sprinkle with the cinnamon sugar.
2. Bake the apple slices, turning every half hour, until dry, 1 1/2 to 2 hours. Remove and transfer to racks to cool. Store in an airtight container.