Cinnamon and Whole Wheat Banana Bread
Mmmama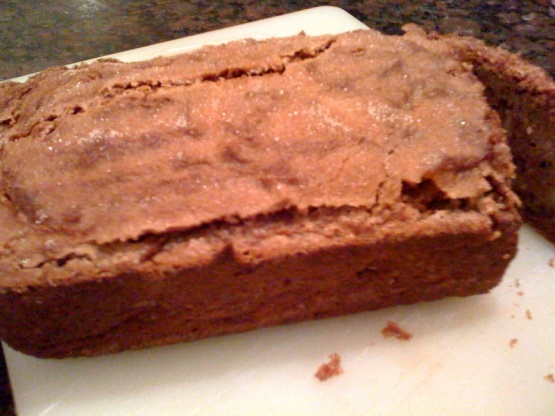 This is a delicious banana bread that is not too sweet. Carry a copy of the recipe if you take the bread with you anywhere, because people always ask for it. Using whole wheat pastry flour gives this a ligher texture than regular whole wheat flour. This mix also make great muffins. Bake around 20 mins.

Like Mmmama I subbed some applesauce in place of the oil and some egg beaters in place of whole eggs. I made muffins (got 12) and baked them for 28 minutes. I liked the whole wheat idea and they had a lovely texture when warm out of the oven; however, they weren't as flavorful as we'd hoped. My 13-yo DS commented that they needed more cinnamon and I would agree. Then again, DH ate 3 for breakfast this morning.
Preheat oven to 325 degrees, grease 9x5x3 loaf pan.
Beat oil an sugar together.
Add eggs, mix, add bananas, mix.
Stir together dry ingredients, add alternately with hot water.
Mix just until smooth, then stir in nuts.
Bake 55 - 60 mins, cool for 20 mins before slicing (if you can wait).
Tastes delicious toasted,freezes well.