Cinnamon and Honey Popcorn
alligirl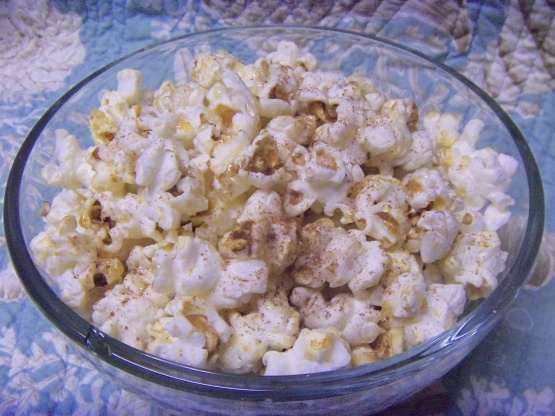 From Australian BH&G Diabetic Living.

I was surprised by how much I enjoyed this popcorn. I initially thought the cinnamon may be a bit overpowering, but it was really good. Now, if I can figure out how to add candied nuts, I don't need anymore Cracker Jacks! :D Thanks for sharing, I'mPat.
Spoon the popcorn into a brown paper bag and fold over the open end of the bag twice to seal and place the bag in a microwave oven and cook on high (100%) for 2 minutes and then remove the bag and shake it and then return bag to microwave and cook on high (100%) for a further 1 to 1 1/2 minutes or until the corn stops popping (will vary depending on the wattage of your microwave),.
Transfer the popped popcorn to a large bowl and drizzle the honey over and sprinkle with the cinnamon and toss to combine.
divide the popcorn between small bowls and serve straightaway.