Cindy's Butternut Squash Soup
CIndytc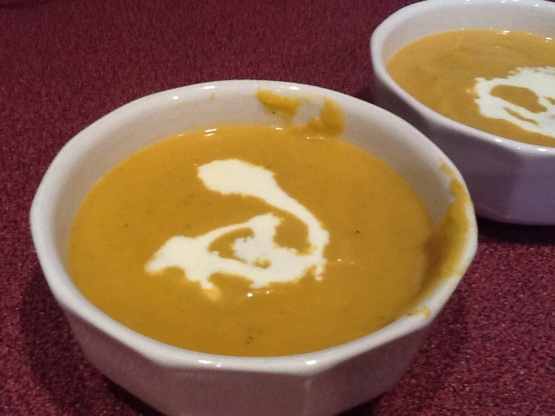 I took a few things from a couple recipes I like and made up this soup. Tried it out on a bunch of relatives and they loved it...Putting it here for safe keeping so I can make again. I used jalapeno flavored olive oil instead of the pepper.

I made this pretty much as written, except I put in two apples. I pureed everything before I put in the cream and tasted. We decided it was good as it was. I did put in some extra chicken broth to make up for having less liquid. My husband, who does not eat butternut squash, ate this soup. I will be making this regularly! Couldn't get over how flavorful this was. So many butternut squash soups seem like liquified pie filling to me. This was not and it really the best soup I have made or tasted.
In a large pot heat olive oil over medium heat. Add onion and garlic and cook, stirring often, until they begin to brown, about 5 minutes. Add apple and spices. Cook for 1 minute, and then add squash, jalapeno pepper and chicken stock. Bring to boil, reduce heat to a simmer and cover for 20 to 30 minutes until the vegetables and apple are tender. Remove from heat and puree the soup with an immersion blender. Puree until smooth. Return to the heat, add the cream and adjust the seasonings. Cover and cook on low for 10 minutes to blend flavors. Serve with a dollop of heavy cream on top if desired.