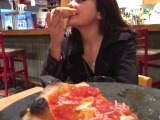 This is the ultimate hot weather salad. When you can get fresh corn use that! When the kids are not here to eat it we add the jalapenos.
Directions
Mix all ingredients and toss to blend.
(Can be made 2 hours ahead. Let stand at room temperature, tossing occasionally).
Can also add chopped jicama, chopped green onions, chopped jalapeno, chopped red peppers, garlic… the possibilities are endless! Cha Cha Cha!
Most Helpful
Excellent, super easy and very healthy too. I did modify a little bit; I cut the corn portion in half to just 1 - 16 oz. bag. I added chopped jalapeno's, black olives & chopped orange bell peppers. Brought into work for a Cinco De Mayo pot luck, was a bit hit!
I used leftover corn on the cob to make this. The cilantro and lime juice added a light, fresh flavor. It mkes a pretty and colorful presentation as well. I like the idea of adding jalapenos as written int the intro. I didn't have any, but I will be sure to add some next time. Thanx!

This was great! I didn't have cilantro, but it still came out great.