Thomas W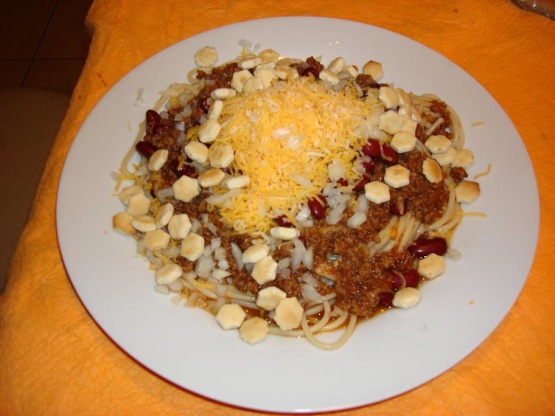 This is a delicious chili recipe in the style of Cincy. Lots of spices that meld together and it smells great as it cooks. While its similar to Skyline Chili I don't think anyone is going to get the exact thing. Have it by its self or on top of spaghetti. My favorite is with spaghetti, kidney beans, fluffy shredded cheddar cheese and chopped onions. Oh, don't forget the oyster crackers!
put ground beef in a stockpot or dutch oven and cover with water.
bring to a boil, stir with a spoon to get beef to break up to a fine texture cooking until done.
drain beef.
While beef is cooking finely chop the oinions and garlic (I use my food processor).
add all of the remaining ingredients.
simmer for 1 hr to reduce.
note: it is best served the next day to let all of the flavors meld and to remove any remaining grease that will form on the top. It may be necessary to add a little water if the chili is too thick.
It's great on hot dogs too!