Ambervim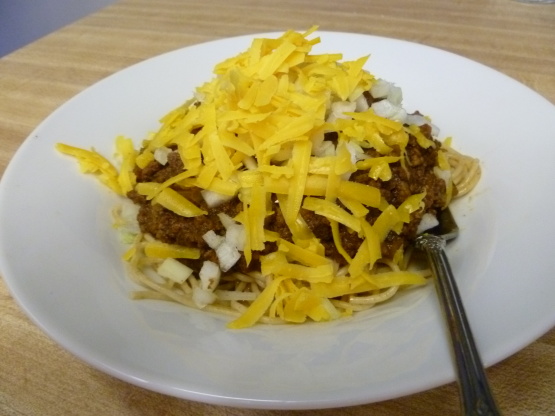 The thing that makes Cincinnatians' recipes different from the way you and I would start cooking the chili is not only the spices, but also the method. They do not start by browning the meat, but by boiling it!

Outstanding flavor; DH unable to wait for it to meld overnight. Very easy to make, too. I used 1 T. cocoa instead of the unsweetened chocolate. Thank you! ETA: I've also made this with lentils (about 3/4 lbs) for meatless meals, and it's still outstanding.
Bring the water to the boil and add the ground beef. Stir until the beef is separated and add the rest of the ingredients.
Reduce heat and simmer, uncovered, for 2 to 3 hours, or until thickened. Cool, then refrigerate overnight. Skim off any accumulated fat and reheat the chili.
Serves with any or all of the following accompaniments:
1 way: cooked spaghetti.
2 way: finely grated cheddar cheese
3 way: chopped raw onion
4 way: cooked kidney beans
5 way: oyster crackers.