teresas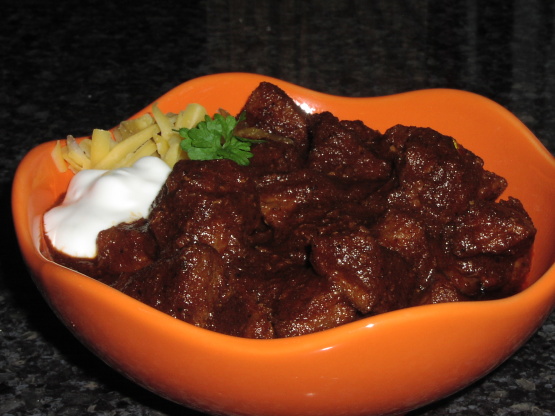 This recipe is from Cindy Wilkins, 2 time national chili cook-off winner. This is a true Texas chili, no beans....just meat and "gravy". It was featured on Throwdown with Bobby Flay. Cindy said she doesn't use fresh onions and peppers in her chili because you can't predict how hot, how flavorful, etc, the fresh ones will be. That's why she prefers to use the powders. This is great as is, but I really use it to stuff poblano peppers, stirring in lots of shredded monterey jack cheese!

I omitted the bouillon granules to keep the sodium down. I used all the ingredients only once. When called for the second and third time I just omitted because I found no need for it! Plenty of flavor as is! I used chuck pot roast that I trimmed of fat and cubed. After adding the broth and tomato sauce I added the spices. The flavor was not lost with the 3 hour cooking that I did. I actually found the garlic a bit strong. But we like that! I didn`t top the first night. DH did use sour cream. The leftovers we did top with some shredded cheese and Recipe #97531. Thanks for the comfort food!
In a large heavy bottom pot, heat olive oil over medium-high heat. Add the sirloin and cook until browned, about 8 minutes. Season with salt and drain off the excess grease.
Add the tomato sauce and beef broth and simmer for 1 hour.
Add the next 7 ingredients, stir and simmer for 35 more minutes.
Add the next 5 ingredients to the pot and cook another 20 minutes, stirring often.
Add the last 5 ingredients and cook for 10 more minutes.
Serve and enjoy. Garnish with cheese and sour cream. Or, use the mixture to stuff poblanos, adding some cheese.