Cilantro -- Proper Storage

I found a solution for keep cilantro for longer than a couple days. The pictures shown are of cilantro that I purchased over two weeks ago.
1 bunch cilantro

Note

1 glass jar, with lid
Directions
Pick through the cilantro and remove any stems and leaves that are not in perfect condition.
Cut off part of the stems so they will fit in jar.
DO NOT WASH.
Place in clean dry jar with tight fitting lid.
Store in the refrigerator, checking every few days, removing any stems that are deteriorating.
Reviews
Most Helpful
So very glad I happened upon this cilantro storage method! I keep cilantro on hand at all times, and even using it as often as I do, over 1/2 the bunch typically ends up being thrown out due to wilting/yellowing. I've had my jar going for about a week now and and it still looks and smells fresh and beautiful! Each time I need to use some, I just go ahead and pick through and discard the few stems that are failing. Thank you for sharing this method! Update: my first jar kept for just over a month!!! Granted, on my last use there were several stems that needed discarding, but of the still green stems, they remained fragrant and fresh tasting. Over a month!! Amazing!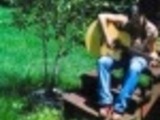 Being the scientist that I am, I had to do a side by side comparison of this with my usual method of storage (kept enclosed in a plastic produce bag). I checked/used them with the same frequency and found both methods to yield comparable results. They both lasted (and smelled fresh) for 3 weeks, following the directions to remove any yellowing or rotting stems/leaves along the way. We get very fresh produce here, so I am not sure if this method would make more of a difference if the cilantro you purchased weren't as fresh.

This works great. A friend of mine told me about your post, so I tried it. This is going to save me a lot of trips to the market for fresh cilantro. Thanks!