Pam-I-Am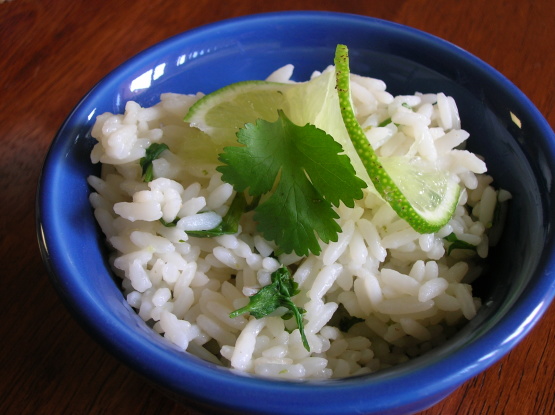 Delicious rice dish......fresh lime juice and cilantro wake up your taste buds....eat alone or with your favorite mexican dishes.

Top Review by jrusk
This is one of the few recipes that calls for cooked rice and is an awesome way to use leftovers. I used the white and brown rice from my previous chinese dinner and made it into this for my burritos. Chinese to mexican in 5 minutes. I never throw away leftovers so I'm always looking for ways to change them into something new. I added this to my burritos. I still have a little leftover. I plan on adding it to the chicken tortilla soup I made just before serving. The lime and cilantro are supposed to garnishes anyway. As you can see...I LOVE THIS IDEA and we do not waste food :)
Once your rice is cooked fluff with fork.
Add lime juice, zest, cilantro and salt.
Stir well.
Serve warm.
Enjoy.