gailanng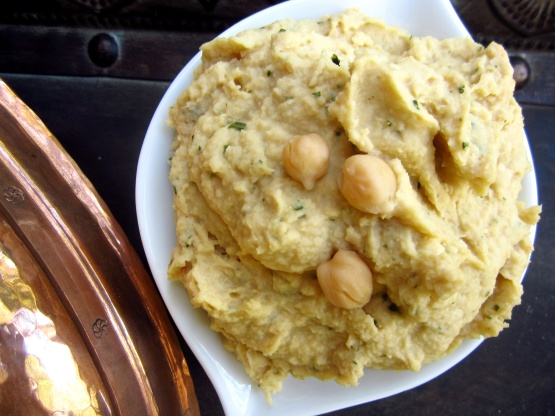 A wonderful combination of flavors. This is always a huge hit at parties.

Changed a few things.... I only used 2 Tablespoons of Light olive oil and added 4 tablespoons (1/4 cup) of the bean juice (I did not rinse the beans either). I used 3/4 cup or so of pickled Jalapeno slices, added 4 sliced green onions, 1/2 teaspoon cumin, 1/4 teaspoon of pepper, 1/4 cup lime juice & the zest of the lime and a little more Cilantro than called for. I feel 1/2 cup of Olive oil is way to much to add to it... the bean juice from the can worked very well and made a very wonderful Hummus that is a bit healthier! 5 stars & thanks for sharing! :)
In food processor, pulse garlic.
Add beans, lime juice and salt.
Puree.
Slowly add olive oil and blend until thick, 1-2 minute.
Add cilantro and jalapeno, pulse 10 seconds.
Transfer to bowl, and chill a few hours to allow flavors to meld.