Cilantro Hummus With Crispy Garlic Pita
Chilicat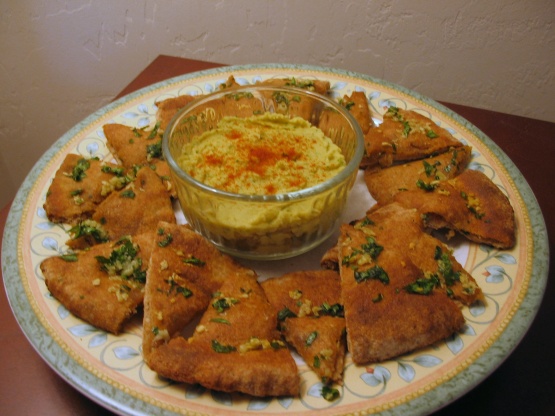 A twist on plain hummus served with garlic pita.

This is a really nice, "green" alternative to traditional hummus. The cilantro and lime give it a distinct, almost southwest flavor. The garlic pitas are to die for, and really enhance the dish. I'll for sure use them when I make regular hummus, and I could see sprinkling them with a little sea salt and munching them as a snack as well. I used wheat pitas (my nod to healthy eating) and they turned out great.
Place the garlic, chillies and cilantro in a food processor and whizz until finely chopped.
Add the garbanzos and whizz until well blended.
With the motor running, squeeze in the lime juice and drizzle in the olive oil to make a fairly coarse paste.
Season well to taste and spoon into a serving bowl.
Meanwhile, mix together the olive oil, garlic and parsley and season.
Heat one side of the pita breads under a hot broiler for about 1 minute until well browned.
Turn over the bread, then use a knife to slash the softer surface 4-5 times without cutting through the bread.
Brush with the herb and oil mixture and return to the broiler until bubbling and toasted (about 1 minute).
When cool, break into pieces and serve with the hummus.