Geema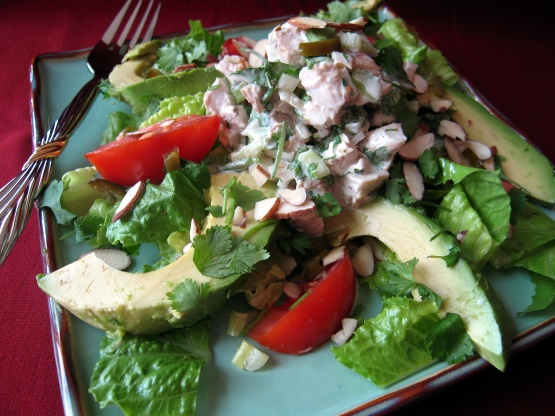 Use up leftover chicken! Best when allowed to chill for a couple of hours.

I had some leftover chicken breast to use up and thought I'd try this recipe out. To my surprise, my husband found this in the refrigerator and had eaten most of it up before I got to try it. He normally doesn't like dishes like this, but he really liked this. I liked it too. I only had sliced almonds so I subbed them for the slivered almond and didn't think it would make much of a difference. However, the sliced almonds got kind of lost where I think the slivered almonds would have given it more of a crunch.
In a large bowl, combine chopped cooked chicken, onion, celery, almonds and cilantro.
In a seperate small bowl, whisk together mayo, sugar, soy sauce, pepper, and if needed, salt.
Pour dressing over salad mixture and toss well to evenly mix.
Chill before serving.