Ms B.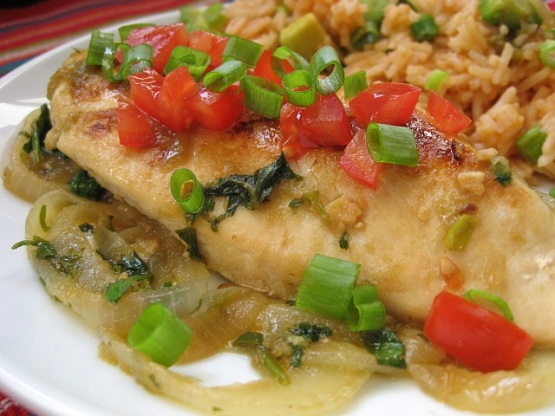 Top Review by Kathy
Superb! Had company over to try out this recipe and we all loved it. Since it was very hot, we grilled the chicken and added it to the recipe at the salsa verde and chicken broth step (#4). I delayed adding the cilantro until the last minute -- wanted to keep the cilantro a bright green color. Also used 16 oz of salsa since it used up the jar -- which just made more of this wonderful sauce. Next time I'll double the tomatoes and add pine nuts for variety.
Heat butter in a saucepan over medium heat.
Add onion and garlic and saute until soft.
Add chicken breasts and saute until golden brown.
Add salsa verde, chicken broth and cilantro.
Reduce heat to low and simmer for 3 to 5 minutes.
Serve over rice or couscous and sprinkle with the chopped fresh tomatoes and green onion.