Prep 10 mins
Cook 35 mins

This is a flavorful and filling autumn side dish, I usually serve with chicken or turkey, but could eat it as a meal. I found this recipe in "The Best of Country Cooking 2006" and use it regularly.
Directions
Preheat oven to 425.
Place the squash and onion in a greased 9 * 13 baking dish.
Combine remaining ingredients: pour over squash mixture.
Cover and bake at 425* for 35 minutes or until tender, stirring every 10 minutes.
Reviews
Most Helpful
I've been wanting to make this for quite some time. I finally bit the bullet & made it last night for supper...it did NOT disappoint!!! The only change I made was that I tripled the sauce. Will most definitely make this again...THANKS for sharing!!!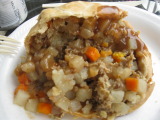 My DH and I love this recipe. He often accuses my cooking of being bland, but he even thinks this is a really flavorful dish. I go a little heavy on the brown sugar when I make it.