Bergy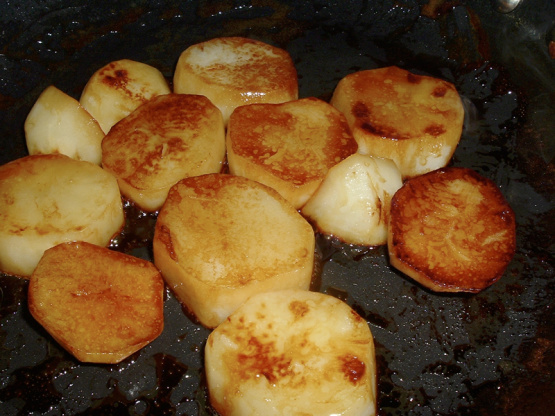 This is a recipe from The Guardian's Weekend magazine. I've not yet made it, but thought it sounded great. I didn't want to keep the whole magazine, so I thought I'd post it here for me to keep the recipe safe and to share with you. As the recipe doesn't give any, the times here are estimated. The cider refered to in this recipe is the alcoholic kind.

Top Review by Bergy
Sylvie I am glad that you said that you had not tried this recipe. For appearance I give it 8 out of 5 - for flavor it only rates a 3. I followed the recipe (I did cut it back two potatoes) covered them with cider - they cooked and turned golden but in the final taste test were really not that special. Sorry Sylvie perhaps it's only our taste buds- it just didn't excite me
Using a 2 inch pastry cutter, cut the potato slices into rounds.
Place the potato slices into a large pan and cover with the cider.
Add the butter and season with salt.
Bring to the boil over high heat and cook until the liquid is reduced and starts to become syrupy.
The potatoes will start to caramelize.
Carefully turn the potatoes, so that they will colour on both sides.
If the potatoes are golden but not yet cooked through, add a little water and repeat the steps.