Cider-Poached Apples With Cinnamon Yogurt
PaulaG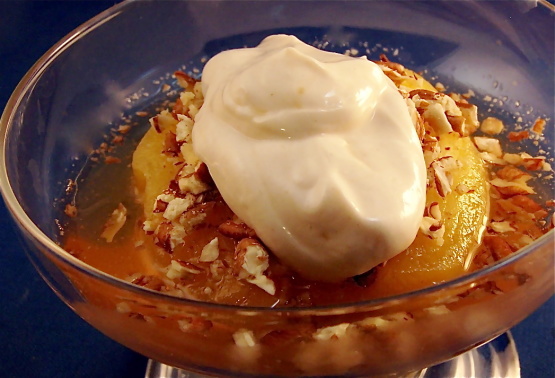 Lovely diabetic dessert, or for all to enjoy! (from diabetic cooking) Dietary exchanges 2 fruit, 1 fat

I must admit that I am not diabetic, but this dessert was delicious! :-) I really enjoyed this in the afternoon in between my classes, and it really filled me nicely. Its a refreshing, slightly sweetened dessert. I love yogurt and apples, so thats a plus hehe. thanks for posting this recipe Derf, its a keeper!!
Bring apple cider and cinnamon stick to a boil in small sauce pan over high heat.
Let boil, uncovered, about 20 minutes or until liquid is reduced to about 1/2 cup.
Add apples; cover and simmer about 10 minutes or until apples are just tender.
Gently remove apple halves and poaching liquid from saucepan.
Refrigerate until cooled.
Combine yogurt and ground cinnamon in small bowl;reserve 1 tablespoon.
Divide remaining yogurt mixture evenly among 2 dessert dishes.
Place apple halves on top of sauce.
Sprinkle each apple half with toasted pecans.
Drizzle with reserved yogurt sauce.