Cider-Baked Ham With Brown Sugar & Honey Glaze
Prep 20 mins
Cook 3 hrs 30 mins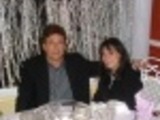 This is super easy, yet so impressive. It is the ONLY way to make a baked ham (or, at least that's what I've decided). I have yet to make this and not be asked for the recipe. Try it for your next holiday!
Directions
Preheat oven to slow (325 degrees). Place ham, fat-side up, in a shallow roasting pan.
Combine apple cider, cinnamon, cloves and allspice in a small saucepan. Heat to boiling. Cover and simmer 5 minutes. Pour over ham.
Bake ham in preheated slow oven, basting every 30 minutes with cider sauce from pan, for about 3 hours.
Remove ham from oven. Increase oven temperature to hot (400 degrees). Score diagonal lines in fat with tip of knife to form diamond shapes, being careful not to cut into meat. Stud each diamond with whole clove, if you wish.
Combine brown sugar and honey in a small saucepan. Heat over low heat, stirring, until sugar is melted. Brush over top of ham.
Return ham to hot oven. Bake 30 minutes longer, brushing the ham every 10 minutes with the remaining honey mixture, until brown and glistening and an instant-read meat thermometer reads 160 degrees.
Remove ham from oven. Let stand 20 minutes before slicing.
Most Helpful
I made this for Easter Sunday dinner, and it was great! I used apple juice and added 1/4 tsp ground cloves and 1 tsp dry mustard, and substituted 1 tsp cinnamon (didn't have a stick) to cook the ham. I also topped the ham with pineapple rings and glazed it. Loved the combination of these flavors when the sugar carmelized. Thanks for posting this Jackie . . . it's now the way I will be making ham!

This had a really great flavor, but the texture of the ham was spongy - more like a boiled ham. I think it was because the ham cooks in a cider bath. If you don't really love cloves, cut them down significantly or out completely for they really flavor the meat all the way through. Next time I think I'll skip the cider bath and just use the cloves and glaze.

The flavors in this recipe are very good. The ham came out very moist and flavorful. I would recommend you decrease the cooking time if you are using a spiral sliced ham, because the edges of the ham will get dry if you don't. Thanks so much for sharing your great recipe!