Ciambella Della Nonna – Italian Breakfast Cake
awalde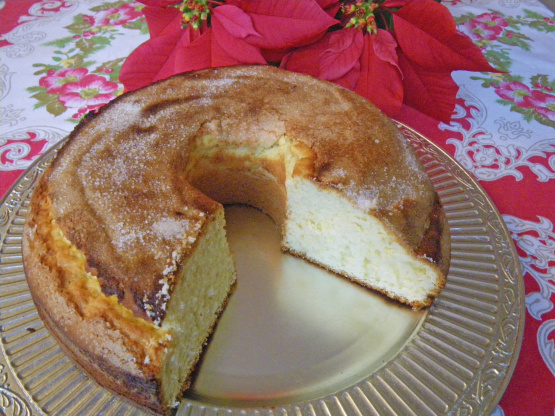 For many years my mother prepared this ring-shaped cake for our breakfast! My children love this super easy ciambella too. They spread some margarine and sugar over the slices and Yum... This is a souvenir in honor of my parents!

Lovely, dense cake. It reminds me very much of the Almond Rusk my Mom made for my Sis and me when we were little. I halved the recipe and baked it in a loaf pan. I used a combination of orange and lemon zest and apricot brandy. Wonderful flavor.
Preheat the oven at 220°C (425.°F).
Grease your mold (I use a ring-shaped one) and dust with four.
Work all the ingredients (reserve the sugar for topping) with the kneading machine until smooth.
Spread the batter in the mold.
Top with sugar.
Bake for 30 minutes at 220°C (425°F).