Ciabatta Bread With Nuts No Knead No Wash
milliwuu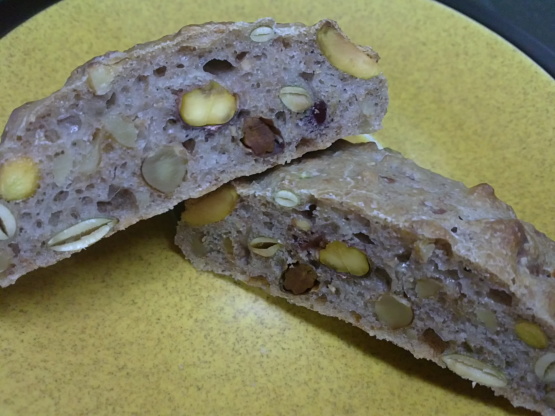 Having made only regular breads, I got curious about the interesting water flour ratio in making Ciabatta. I altered in several ways and decided on this to be the one I will continue to make. I love the fact that the dough is sticky and can incorporate a lot of nuts. (Prep time not counting proofing time.)
2 1⁄4 teaspoons dry yeast (Can decrease to 1/2t if baking next day.) or 1 (7 g) package dry yeast (Can decrease to 1/2t if baking next day.)

2

teaspoons salt

2

teaspoons sugar (optional)

4

tablespoons butter (For a taste more like facaccia. Also, keeps longer in the freezer. The dough also detaches from cont) (optional) or 4 tablespoons oil (For a taste more like facaccia. Also, keeps longer in the freezer. The dough also detaches from cont) (optional)
3 1⁄4 cups bread flour (1/3 can be wholewheat flour.) or 390 g bread flour (1/3 can be wholewheat flour.)

1

cup nuts (Could be up to 2 cups) (optional) or 1 cup dried fruit, of your choice (Could be up to 2 cups) (optional)
herbs, of your choice (to incorporate or sprinkle on top) (optional)
Incorporate the ingredients well one by one into a plastic bag.
If you are in a hurry, skip the next step.
If baking the next day, which yields the best result, fold the opening of the bag under and let sit in a warm place for 20-30 minutes then let it sleep in fridge for about 18 hours.
To bake, slip a desired sizes of dollops of dough out of your bag onto a baking paper, spray with water, let sit for 20-30 minutes. (It rises wider but not necessarily higher.).
Heat up oven to 220C or 450F with baking tray inside. Spray dough with more water and put the dough along with the baking paper onto the baking tray.
Bake 15-25 minutes for small ones and 30-40 for large. Or, it is done when the color is right and the internal temperature reaches 80C or 175°F If the color is getting too dark, cover with foil.
Note: If you want a not-so-flat bread, you may fold the dough a couple of times (Jim Lahey's No Knead video) or tuck the sides under (5 minutes a day bread video) .
Note: If the bottom has no color, flip and bake 5 more minutes.
Note: Just by adding the optional oil, this can become a low fat facaccia by poking some holes and brushing with some extra oil on top just before baking.