Katzen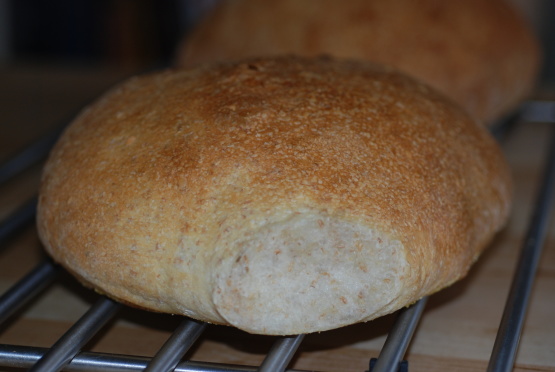 Found in response to a request for a bread machine recipe for Ciabatta Bread. I love this stuff. It is one of the best breads I make!

I have been enjoying this bread for several years now and wanted to comment in response to some folks who have had trouble with the stickiness. It IS sticky, and I usually don't have time to be bothered with shaping sticky dough into loaves, so my solution has been to pour the dough from the bread machine pan directly into a lightly greased 9x11 pyrex. Then (with oiled hands) I push and pull the bread to spread it evenly across the pan, trying to be as ginger as possible so as not to lose the lovely air pockets. Then I cover it with a tea towel and slide it into a warm oven to rise (a minute at 200 degrees usually does the trick). Then, pull it out to preheat and bake as usual (maybe a bit longer than normal due to the thickness of the "loaf"). I realize that the finished product isn't nearly so traditional, but it has been a simple, fool-proof solution for me, and makes a tasty pan of bread! Thanks for the great recipe!!!
Place ingredients into the pan of the bread machine in the order suggested by the manufacturer.
Select the Dough cycle, and Start.
Dough will be quite sticky and wet once cycle is completed, resist the temptation to add more flour.
Place dough on a lightly floured board, cover with a large bowl, and let rest for 15 minutes.
Lightly flour or use parchment lined baking sheets.
Divide into 2 pieces, and form each into a 3x14 inch oval.
http://italian-baking.suite101.com/article.cfm/ciabatta_bread_bread_machine_.
Place loaves on prepared sheets, dimple surface, and lightly flour.
Cover, and let rise in a draft free place for approximately 45 minutes.
Preheat oven to 425°F.
Dimple dough for a second time, and then place loaves in the oven, positioned on the middle rack.
Bake for 25 to 30 minutes.
During baking, spritz loaves with water every 5 to 10 minutes for a crispier crust.