Chuy's Hatch Green Chile Salsa
PaulaG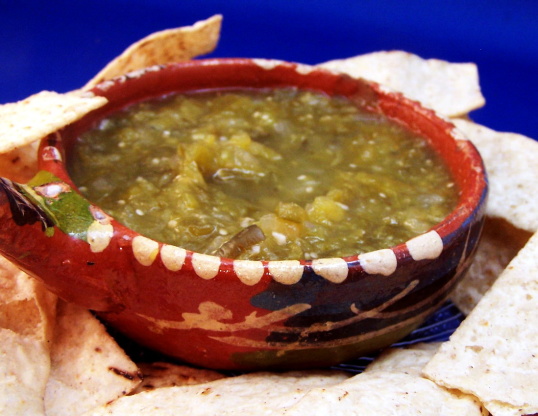 This is another great recipe from the Chuy's restaurant chain. It is really wonderful. This makes about 2 quarts. I would guess that it will keep in the refrigerator for a couple of weeks, or more.

I love this time of year when i can buy fresh hatch chilies, our favorite restaurant makes great hatch green Chile salsa and sauce. Couldn't wait to try his came out ok, i did add cilantro just because i love it thanks for the recipe. I bought a bunch of the chilies and roasted and froze them..
Put all ingredients, except salt and lime juice, in a large kettle and bring to a light boil.
Cook for 30 minutes.
Strain liquid into a large bowl.
Place solid ingredients in a blender.
Add 1/2 of the strained liquid (about 3 cups) and blend until smooth.
You may have to do this in batches.
Add the lime juice and salt and blend for 30 seconds.
Chill and serve.