twissis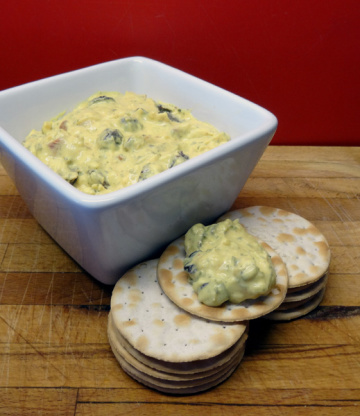 From my America's Best Recipes cookbook. Haven't tried this yet, but I love the combination of the raisins, peanuts and coconut with the curry powder and chutney. Makes 2 cheese balls. (Prep time does not include refrigeration time).

Made for the FYC Tag Game - I left out the peanuts as DH is diet-restricted for them. I used 3 Tbsp of the chutney as allowed by the recipe. I was otherwise very careful to follow the recipe exactly, but the consistency of the end-product did not seem to allow forming cheese balls IMO, so I served it to our game night guests as a spread w/crackers (part of a cheese & fruit dessert combo). The flavor & textures were excellent & well-rec'd. This is an ingredient-friendly & easy-fix recipe that I made ahead (a freq goal for me). IMO it is best served w/simple butter-flavored or water crackers so nothing competes w/the great flavors. All that said, this was the favorite of the night for 1 of my guests, a now-retired foodie who spends his days cooking for his still-working wife. He asked for & I shared your recipe w/him, so it clearly will continue to be enjoyed here in Iceland. Thx for sharing this recipe w/us. (Pic will post later today)
Combine cream cheese and sour cream in a large bowl; beat at medium speed with an electric mixer until smooth. Add raisins and next 4 ingredients, stirring well. Shape mixture into 2 balls. Combine coconut and parsley; roll cheese balls in coconut mixture. cover and chill at least 4 hours. Top each cheese ball with chutney before serving. Serve with crackers.