Rita1652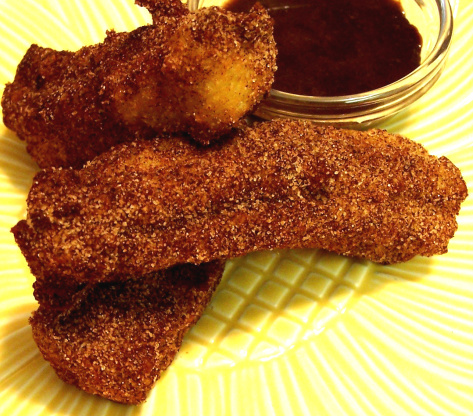 Churros a hot and crunchy exterior with a soft chewy interior street food. Originated in Spain they quickly spread to Mexico and Argentina. Today, Churros are also enjoyed in the United States by all nationalities.

I do not fry, I do not do it well. However, I really fancied churros lately [my mother was from Madrid, Spain, and she would make these for us whilst we were growing up] and I found this recipe....I didn't use nutmeg, but dusted the finished churros with powdered sugar and dunked them into hot coffee ... so nostalgic! Tasted JUST like the ones my mother used to make!! I will definitely keep this recipe and make it again and again! Thank you so much for sharing!
Chocolate Caliente:
Bring milk to a boil. Add in chocolate and sugar.
Stir over heat until chocolate is melted and sugar has dissolved. Set aside.
Churros:.
Heat water, butter, salt, brown sugar, oil, vanilla extract and nutmeg to a rolling boil.
Mix flour and baking powder together; stir vigorously into water mixture over low heat until mixture forms a ball (about one minute). Remove from heat.
Beat eggs in all at once. Continue beating until smooth.
Let the dough cool. Place dough in a piping bag with a large star tip.
In a large frying pan, heat oil in a pan 2 inches to 375 degrees F.
Pipe the churros in long rods directly into the hot oil.
Fry in 2-3 batches until golden brown on all sides about 2-3 minutes. Drain on paper towel.
Dust while still warm with choice of sugars and serve with Chocolate Caliente.