Churrasco Strip Steak With Chimichurri Sauce
gemini08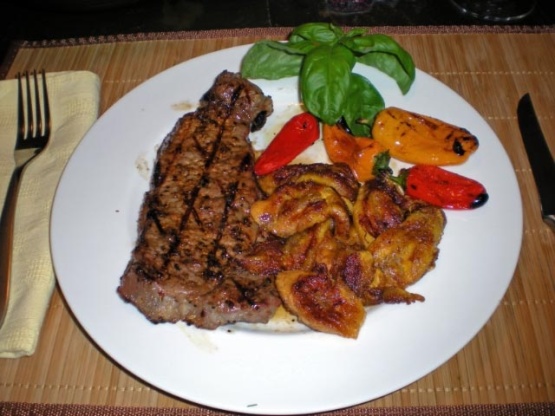 This citrus and pesto like recipe is from one of our favorite local restaurant's "Dinosaur BBQ". It is using their bottled marinade. For those who have received a package from me, I have included this sauce. For those who have not--never fear, I am including the web address so that you can enjoy it too. Go to www.dinobbq.com .. also, look for other "Dinosaur" recipes using their sauces under me or my hubby Rickv.
Start early in the Morning, remove the boot strap tendon sometimes found on the outside edge of the steaks.
Pour on marinade and let them stand all day.
Using parsley leaves fill measuring cup to make 1 full packed cup.
Mix together all sauce ingredients except oil in a food processor or blender to form a paste.
Dribble in a little oil at a time until fully blended.
Taste, add more seasonings if desired.
Set aside.
Take steaks out of marinade and pat dry.
Grill on hot grill until medium-rare (Ok, Hubby teases me, I like mine a little more done than that).
Serve with some sauce spooned over each steak.