Hey Jude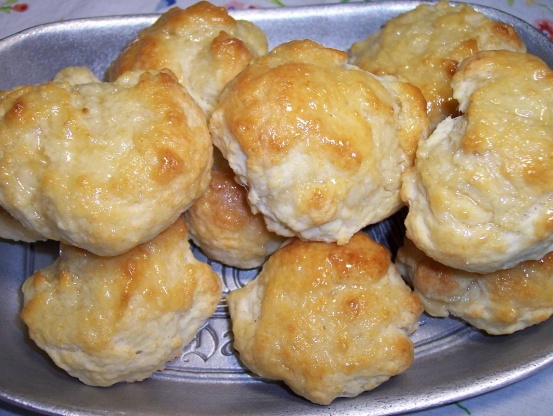 I have been looking for a good biscuit recipe for a long time, and I came across this recipe. It is a copy cat recipe for Church's biscuits from cdkitchen.com I tried it out, and it was wonderful! My husband loved them too! You should try it for yourself.

I liked these! The texture was great. Very tender. Next time I make these, because I will absolutely make them again, I will use butter instead of shortening, I will increase the sugar by a teaspoon, and I will actually put the biscuits into the oven with some of the honey and butter mixture on them from the beginning and then brush them again after baking. Great recipe!
Preheat oven to 450°F.
Mix flour, baking powder, salt, sugar, and cream of tartar in a medium bowl.
Work the shortening into the flour mixture by crumbling with your hands until the mixture feels like cornmeal.
Pour milk into flour mixture and mix well.
On a slightly floured surface, knead the dough about 12-15 times.
Make dough into balls (about 2 inches) and place on baking sheet.
Brush Dough balls with some of the melted butter.
Bake 10-12 minutes or until golden.
Meanwhile Bring the remainder of the butter, and all of the honey to a boil in a sauce pan, then set the honey butter aside.
When biscuits are done remove from the oven and immediately brush each biscuit with honey butter.