CoffeeB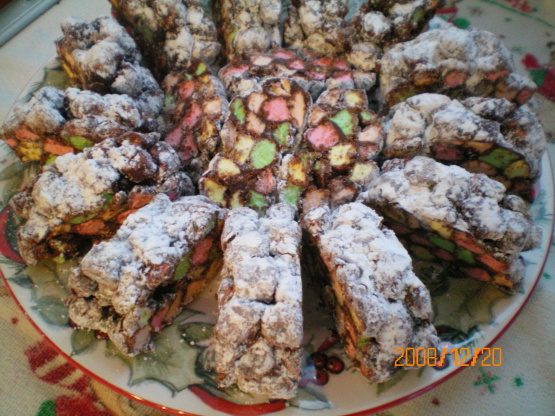 This is yet another version of church windows - this one from Cooks.com. I haven't tasted them yet but my husband claims they are good -- his mother used to make them for Christmas.

I have been using this recipe for years to recreate a traditional family holiday treat, so I thought I should post my first review ever. These freeze well. I have found the way to turn these into nice logs is to throw them in the freezer and let them partially set, then press the outside of the wax paper again to encourage a nice shape.
Melt chocolate chips and butter. Cool them to touch (don't want to melt the marshmallows).
Add the nuts and marshmallows. Mix well.
Divide mixture into to 2 large log rolls. Roll each roll in the coconut.
Wrap in waxed paper and chill for 24 hours.
Slice into 1/3 inch cookies.
Recipe makes about 3 dozen.