Chunky Tomato 'n' Grilled Corn Bisque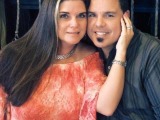 This recipe was a 2006 Southern Living Cook-Off finalist. To cut down on cooking time, use corn from the frozen section of your grocery store.
Directions
Melt 1 tablespoons butter with oil in a Dutch oven over medium heat; add shallots, and sauté 3 to 5 minutes or until shallots are tender.
Stir in garlic and tomato paste, and sauté 1 minute.
Add tomatoes, sugar, and basil, and sauté 3 minutes.
Add chicken broth, salt, and pepper.
Cover and bring to a boil.
Reduce heat to low; uncover and simmer, stirring often, 30 minutes.
Stir in 3/4 cup cream, and simmer, stirring often, 15 minutes.
Meanwhile, combine crumbled blue cheese and remaining 3 tablespoons butter in a small microwave-safe bowl.
Microwave at HIGH 25 seconds or until cheese melts.
Whisk until well blended.
Brush mixture evenly onto corn.
Coat a cold cooking grate with cooking spray, and place on grill over medium-high heat (350° to 400°).
Arrange corn on cooking grate, and grill 12 minutes, turning every 3 minutes or until done.
Let stand 5 minutes.
Hold each grilled cob upright on a cutting board, and carefully cut downward, cutting kernels from cob.
Discard cobs.
Stir kernels into soup.
Ladle soup into bowls, and drizzle evenly with remaining cream.
Garnish, if desired.