Chunky Pork Chipotle Chili
lazyme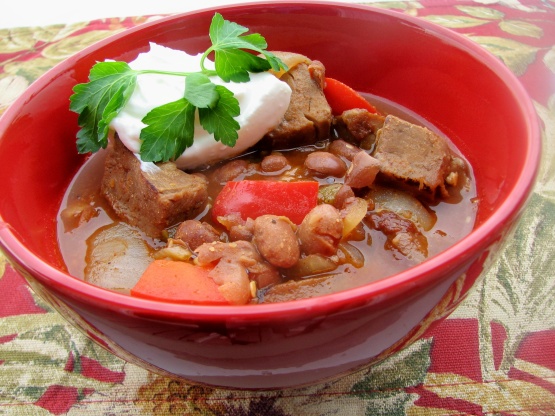 A great and filling chili - adjust the chipotle chilis to your desired spiciness. Beef broth can be substituted for the beer if desired.

Made as directed and it was a bit liquidy which is okay. The bigger issue is the balance: given the spiciness, the sweetness was off a bit for us. I think that the next time I'd make this I will add a can of diced tomatoes and a tablespoon of sugar. Thanks, loof! Made for Zaar Stars.
Chop the onion. Mince the garlic. Cut the pepper into 1/2 inch chunks. Cut the pork into 3/4 inch cubes.
Heat the oil in a large saucepan. Add onion and garlic and cook 3 minutes.
Toss the pork cubes with the cumin and chili powder until well coated.
Add the pork to the saucepan and cook until the pork is browned, about 3 minutes.
Add the bell pepper, beer, picante sauce, and 1 tablespoon of the chipotle chilis. Bring the mixture to a boil. Simmer about 5 minutes or until pork is tender. Taste and add more chipotle if desired.
Add the beans and heat through.
Serve topped with sour cream and cilantro, if desired.