Prep 20 mins
Cook 45 mins
Directions
Preheat oven to 350°.
Grease a 13x9 baking pan.
Crust-Beat flour, butter and brown sugar in a small mixer bowl until crumbly.
Press into pan.
Bake for 12-15 minutes or until lightly browned.
Filling-Beat eggs, corn syrup, granulated sugar, butter and vanilla in medium bowl with wire whisk.
Stir in chunks and nuts.
Pour evenly over baked crust.
Bake for 25-30 minutes or until set.
Cool completely in pan on wire rack.
Cut into bars.
Reviews
Most Helpful
Tried these last week and they sure disappeared in a hurry!! Next time I might even dare to try them without the chocolate chips!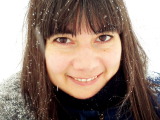 I couldn't resist making this even though I didn't have any chocolate chips on hand. I substituted one cup of lightly packed brown sugar for the 3/4 cup white sugar. This made it taste just like my favorite pecan pie recipe, only with a quicker cooking time and yummier crust!! We enjoyed this without chocolate chips, but I look forward to adding them next time. Is it 2 tsp. vanilla or 1? I think maybe vanilla was accidently listed twice in this recipe. I used 1 tsp. and it was delicious. Thank you so much for posting this recipe!
I made these late last night for my husband who likes to snack after work. I woke up this morning and half the pan was gone!! I take it he gave his approval!