Sageca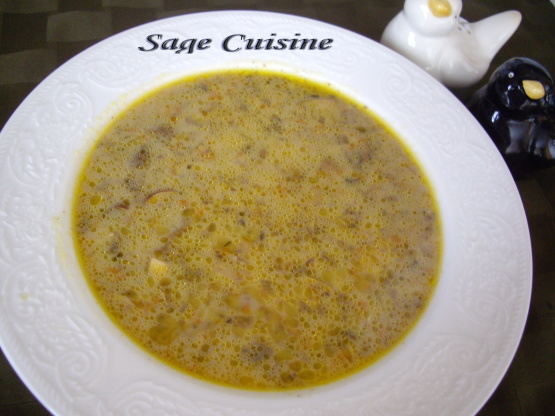 This soup can taste different every time you make it depending on your choice of mushrooms. For sure, you will enjoy it.

Very good soup. I used all white button mushrooms, 3 cloves of garlic, added a chicken bouillon cube and used cognac instead of sherry. We felt the soup needed more salt. It also had a layer of fat on top, so the next time I make it, I would greatly cut down on the amount of butter and olive oil used. Made for ZWT6.
In a medium saucepan, ,melt butter; add oil.
Sauté onions, garlic and carrots, stirring occasionally, for 5 minutes or until softened.
Stir in mushrooms,sauté a few minutes.
Add chicken both, bay leaf, thyme, salt and pepper.
Bring to aboil.
Reduce heat and simmer for 30 minutes.
Discard bay leaf.
Stir in cornstarch mixture.
Using a hand blender process mixture; don't over purée leaving in some chunks.
At this point you can refrigerate the soup and finish it off the next day.
Just before serving, reheat soup until very hot.
Stir in sherry and cream; simmer for 2 minutes.