Parsley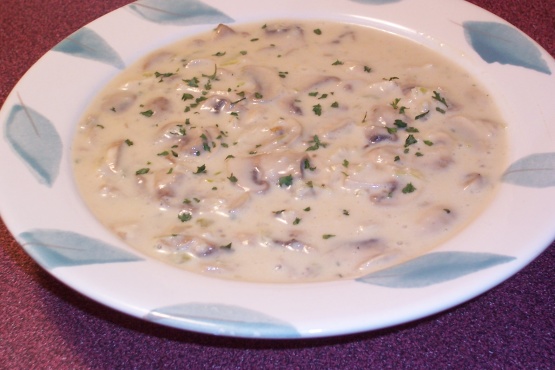 This is my absolute favorite mushroom soup! I came up with this recipe after reading a similar recipe in a magazine....I added more stuff...especially mushrooms! there's NO pureeing, so it's really chunky. You can use virtually any combo of mushrooms, but the button and baby bellas have been my favorite so far. Prep time includes chopping all ingredients plus cooking and stirring.

I really enjoy a good mushroom soup! I thought that the addition of the shredded carrots made this soup different from other mushroom soups. I admit to cutting way back on the butter....I am wathing my cholesterol. I also had to skip the tarragon, because that is one herb that I never have on hand.
In a large pot over med-high heat, melt butter. Add onions, garlic and carrots and cook until onions and carrots are tender. Reduce heat to med-low.
Add the mushrooms; cook for about 8 minutes, stirring occassionally, or until mushrooms are tender.
Add broth, cream, milk, cheese, salt, pepper, tarragon and parsley. Cook over med-low heat until heated through.
Serve and garnish soup with extra parsley flakes; if desired.
For vegetarian use vegetable broth.