Chunky Chocolate Jam Bars
Redsie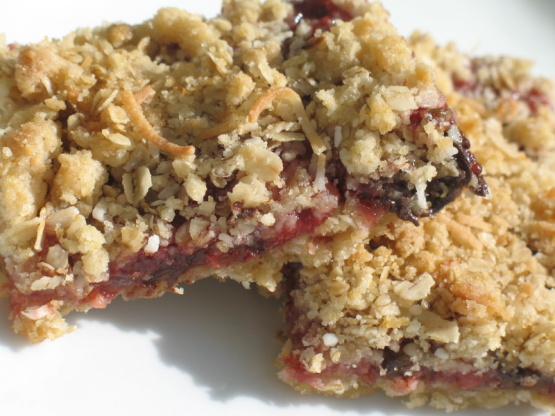 This recipe is from Kraft Foods and sounds as though it would be great for the holidays. The recipe calls for raspberry jam but I think that strawberry would be equally good and festive.

i also got this recipe from Kraft, I think the combo of raspberry jam and chocolate are magic, so i will stick with raspberry, but maybe apricot..these bars are nice and chewy and the textures are very good. the next time, i will use semi sweet morsels or maybe the new bittersweet morsels instead of the chopped semi sweet squares.
Preheat oven to 350 degrees.
Line a 13x9 inch pan with aluminum foil; spray the foil with nonstick cooking spray.
Mix flour, brown sugar and baking powder in a large bowl.
With a pastry blender or 2 knives, cut in the butter until mixture resembles coarse crumbs.
Add the oats, coconut and pecans, mix well.
Press half of the crumb mixture firmly onto bottom of pan.
Sprinkle with chopped chocolate.
Spoon jam over top; sprinkle with remaining crumb mixture.
Bake in preheated oven for 25 to 30 minutes or until lightly browned.
Lift from the pan using foil; cool completely on wire rack.
Cut into bars and enjoy.