Chunky Chocolate Cake Mix Cookies
Bs Mama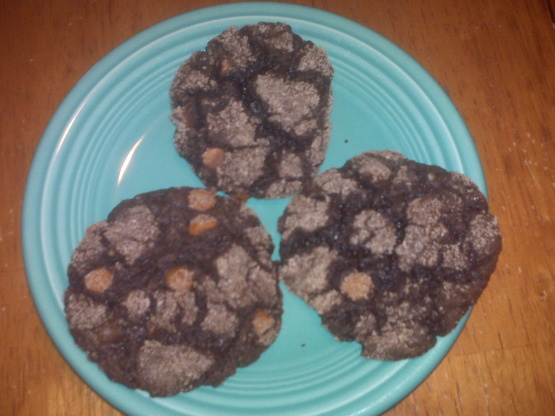 I was introduced to cake mix cookies in college, but no recipe I've ever used compares to this one. I found it on the Duncan Hines dark chocolate fudge cake mix about 6 years ago. It might still be on them. I tried substituting the cake mix with another brand but it just wasn't quite as good.

I make basically the same cookies. I have afew differences, instead of margarine, my recipe calls for 2/3 cup oil, I also only use about 1/2 cup chocolate chips. I use a 2 teaspoon scoop and bake them for 8 minutes at 375 degrees. These are my favorite "fast" cookies. So yummy. I have tried many different cake mix flavors, but the fudge is our all time favorite. I just tried the Cinnamon Swirl cake mix last night. I didn't use any chocolate chips or nuts. They are a very simple version of Snickerdoodles. I mixed everything together and then added the cinnamon pouch with a wooden spoon to make it more swirly than combined. They were pretty tasty!
Preheat oven to 350°.
In a bowl stir in first 4 ingredients.
Then add chips and nuts.
Drop on greased cookie sheet.
Bake for 12 minutes for chewy cookies and 14 for crisp.
Store in airtight container.