Chunky Chicken Salad Wraps - Ww
Derf2440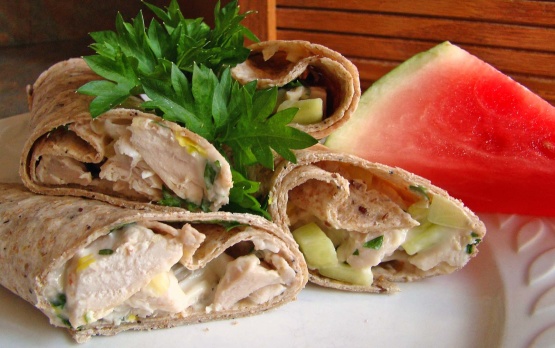 A great lunch as it includes veggies! From WW - 4 WW Points.

We loved these wraps, the celery and cucumber gave them a nice crunch; I used fat free mayo, fresh parsley from the garden and instead of regular pepper, I used red pepper flakes to give them a little zing. Goofed up though I had the lettuce waiting in the fridge cus I made the filling early, forgot to put it in, just remembered it now!!! Guess it didn't matter a lot cus we really did enjoy them and will be making them again. A great Saturday night supper! Thanks for posting.
Combine everything but the tortillas and lettuce in a bowl.
Spoon onto warm tortillas and and the lettuce.
Roll up and fasten with toothpicks.