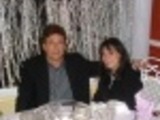 Easy-on-the-cook Sunday supper from Woman's World 12/5/06. For another quick meal, add 2 cups shredded cooked chicken to this zesty salad.
Directions
Cut romaine into 1-inch wide strips. Grate 2 t. zest, and squeeze 1 T. juice from lemon.
In serving bowl, whisk together dressing, lemon juice, zest, and pepper.
Add lettuce, tomatoes, croutons; toss to combine.
Scrape a vegetable peeler over the widest side of a chunk of the cheese. Top with cheese shavings.
Most Helpful
This was very good -- and how simple!! Used regular tomatoes instead of cherry tomatoes (they were so expensive compared to the regular ones!), and shredded parmesan blend cheese. Thanks!!

EXCELLENT. I loved this salad. I used recipe #185342 to make this a one plate meal and the combination of the two were just perfect. I will tell you that given DH doesn't like a lot of lemon and I cut this recipe down for the 2 of us, I applied the lemon zest and lemon juice directly to my salad and tossed them together. It was probably a little more than the recipe calls for for 1 serving, but I love lemon flavor. But besides that made this as directed. This will be a great summer time light dinner. Thanks so much for sharing. Made for Tic-Tac-Toe Fall 08'