Chunky Apple Cake with Cream Cheese Frosting
truebrit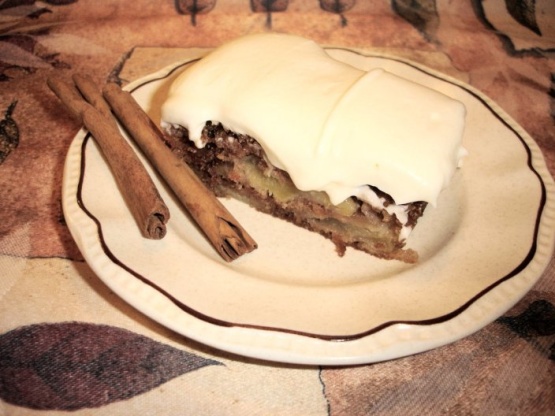 Another Southern Living favorite! Our 15 year old son won a Blue Ribbon and "Best in Show" at our county fair last year with this recipe!

OMG is this so, so yummy! BEST apple cake EVER! I found this orig inally in SL "Our Readers Top Rated recipes" Thank you for posting here for all to see. I sprinkled top with pecans and used pecans in place of walnuts in the cake itself (personal pref). The cream cheese topping is a must as well as the refridgeration. Very moist, much like a great carrot cake. I used gala apples and it worked out fine. A forever keeper for my fall sweets list.
Cake: Stir together first 4 ingredients in a large bowl until blended.
Combine flour and next 3 ingredients.
Add to butter mixture, stirring until blended.
Stir in apple slices and 1 cup pecans.
Spread into a greased 13 x 9-inch pan.
Bake at 350° for 45 minutes or until a wooden pick inserted in center comes out clean.
Cool completely in pan on a wire rack.
Spread with Cream Cheese Frosting; sprinkle with pecans, if desired.
Cream Cheese Frosting; Beat cream cheese and butter at medium speed with an electric mixer until smooth.
Gradually add confectioner's sugar, beating at low speed until light and fluffy.
Stir in vanilla extract.