Rita1652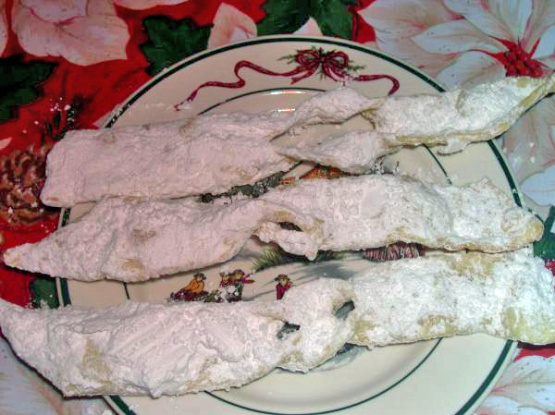 These Polish cookies are very time consuming to make. It's a great help to have a bunch of your favorite family members to help! They are very flavorful and rich. This recipe makes hundreds of cookies. Literally. But they are worth it in the end. The cognac can easily be omitted entirely But why bother! You can cut the kneading time down by using a food processor! Use a couple of pans for frying to make it go faster! (Assembly line)! Cook time is 1 minute per batch of cookies!

Top Review by TGirl
These cookies are worth every minute it takes to make them!! The lemon and orange zest add a great element of flavor, and I'll tell you a secret..I snuck WAY more than 1 or 2 !! They are rich, crisp, and absolutely wonderful !! I left the cognac out because I didn't have any--the cookies were terrific just the same!! I'm going to add these little gems to my Christmas Cookie list of 'must haves'--will make many times in the future!!! THANK YOU!!! Teresa
Beat the eggs and egg yolks together until thick and lemon colored.
Add the melted butter, sugar, salt, extracts, citrus rinds, cognac, and sour cream and beat until creamy and smooth.
Add enough flour gradually to produce a thick, fairly stiff dough.
Turn out onto a floured board and knead for 8-10 minutes until the dough is elastic and can be handled easily.
Roll pieces of dough 1/8 inch thin (should be able to see through them) and cut into strips about 3 inches long and 2 inches wide.
Cut the ends on a diagonal.
Slit each piece in the center and pull one end through the slit.
Heat the crisco and lard to 375 degrees and fry the dough strips, until lightly browned (about 1 minute) Drain on paper towels and sprinkle with powdered sugar.
(SHHHHHHHHHHH!) Sneak 1 or 2 while frying!