Chef Dee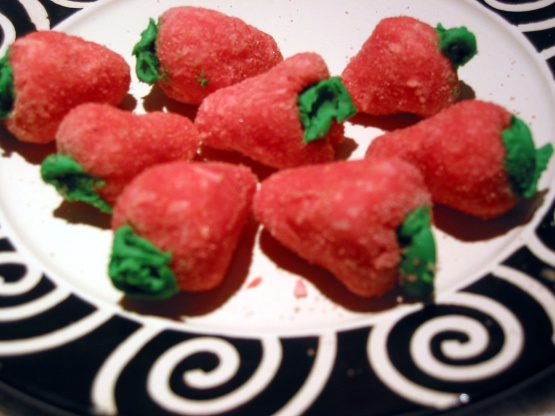 This strawberry shaped confection is a tasty and pretty addition to your Christmas trays.

I have been making an almost exact same recipe for about 35 years, but have refined the technique (after picking up hints elsewhere) to include starting with flaked coconut in the food processor, and adding the sweetened condensed milk and jello through the feed tube while processing. This mixes everything effortlessly and uniformly and breaks down the coconut for easy shaping. Also, instead of using icing to make the stems, I put almond flakes or slivers in a jar, add green food colouring, and shake until the "stems" are uniformly green. These are less delicate to pack than the icing stems, and much easier to apply to the strawberries as soon as they are shaped.
Mix together, reserving 2 tablespoons of the strawberry jello powder.
Chill the mixture.
Shape into strawberries,roll in the reserved jello powder.
With the green icing, make a"hull" at the tip of the strawberries.
Chill until firm.