Christmas Morning Jewelled Muffin Mix in a Jar
Annacia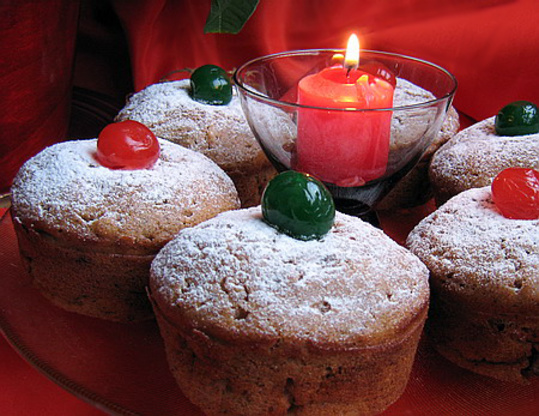 Delightful festive spiced muffins, studded with jewel coloured fruit and nuts - just the thing for Christmas morning! I love all types of "mixes" in a jar! Soups, biscuits, spices, cookies and cake mixes etc! However, this muffin mix is my favourite - it makes a wonderful gift, or I make it for us, as it looks so pretty & festive sitting in the kitchen waiting to be baked! Try to use really colourful dried fruits with a good mix of tastes and textures. For those of you who cannot source Mixed Spice, an essential ingredient, I have a recipe posted on Zaar: Mixed Spice - Traditional Old Fashioned English Pudding Spice. This muffin mix is always popular as a gift, and I do try to find unusual shaped jars and hand-made paper or card for the baking instructions. A wooden spoon tied around the neck of the jar is another winning idea - and don't forget the Holly sprig!

I'm not staring this recipe yet, I made the mix up today and will bake in a few days. When I do that I'll rate and add pix of the finished product. Looking good so far though. I have used candied lemon peel, currants, dried cherries and dried apricots. I'm making it for Photo Tag. *UPDATE*: It's a week later and I baked the muffins this morning. They are marvelous! (and the aroma of the spices when you open the jar is pure heaven! I thought I had made a mistake somewhere when I added the liquid ingredients to the mix as it was really thin. I decided to trust the recipe and it turned out beautifully. I made 6 double size muffins and let them bake for an extra 5 mins. They are moist and simply yummy! My only suggestion would be to be sure that you use the full amount of spice and if you are a spice fan, extra wouldn't be amiss. Thanks FT for a recipe that I'll likely be using for many holidays to come. Made for Photo Tag.
Layer all the ingredients in a 1 litre/2 pint glass preserving jar in the order the ingredients are listed.
Write the following method on a gift label:.
'Tip the contents of the jar into a large mixing bowl. Make a well in the centre and add 2 beaten eggs, 300ml/1/2 pt milk and 100g/4oz melted butter. Mix quickly and lightly to a soft batter. Divide between 12 muffin cases. Bake at 190C/fan 170C/gas 5 for 18-20 minutes Use within 4 weeks.'.
Attach the label and a wooden spoon to the top of the jar with some raffia or coloured ribbon and a sprig of holly or seasonal herbs. (I like to use Bay leaves!).
Look out for attractive clear jars - either glass or plastic - to show off the layers of the muffin mix - I like to use Kilner Jars.